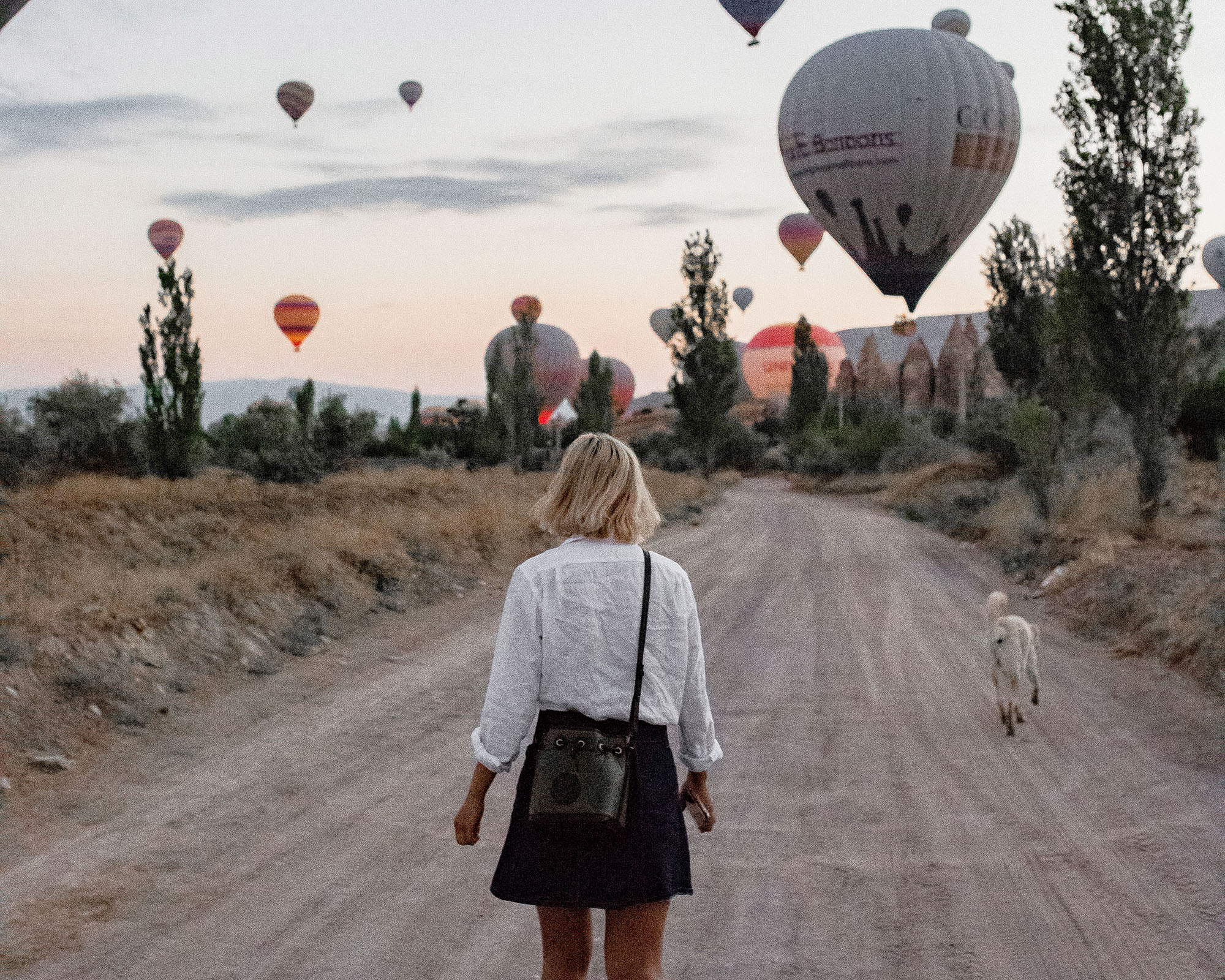 In this look:


2 Way Drawnstring Bag – Hunting World
How to experience hot air balloons in Turkey
Wearing: 2 Way Drawnstring Bag – Hunting World
There's nothing as peaceful in the world as a hot air balloon flight, said the woman sitting next to me at dinner, the night before we were due to go out and see them ourselves. The dining room was, like the rest of our hotel, dug out right into the rocks, generations ago. In fact, all the little townships in this area of Cappadocia, Turkey, resembled human sized ant hills, that you'd imagine anthropomorphized forest animals living in, in children's cartoons.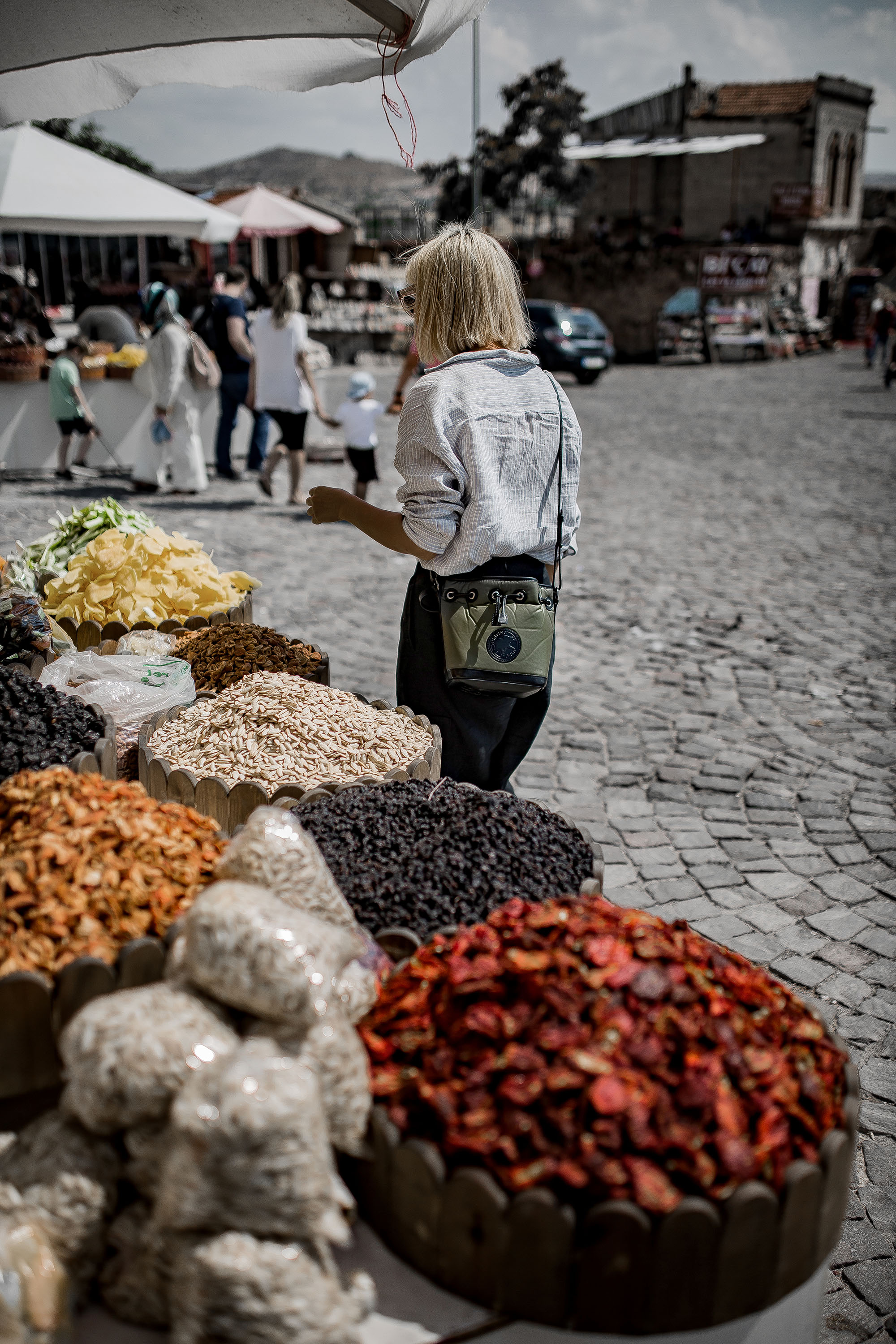 In this look:


2 Way Drawnstring Bag – Hunting World
"They fly right over my terrace some days," Continued the woman, who, by her own account, had woken up at dawn every morning to see them, in the 15 years she'd lived here. "the pilots are used to seeing me. They would call out to me as they passed – Good morning, Annie!".
When I asked her why they fly hot air balloons in Cappadocia, her answer was simply 'why not!'.
As flippant as that sounded, it turned out to sum the story up quite nicely. Ballooning started in Cappadocia in the 90's. With its flat landscape and stable weather conditions most of the year, it's considered an ideal area for hot air ballooning. 20 years on, the balloons number in the hundreds, and on a favourably forecasted day, they hang thick in the sky like Christmas tree ornaments. They dangle there, or rather are suspended, surreally, over Cappadocia's vast rainbow striped rocky valley.  
That morning, we were picked up by our taxi driver in pitch darkness, as the hot air balloons fly at the break of dawn. As we drove out, the black indiscernible mass of sky and earth was interrupted here and there by specs of golden light, between the silhouette of the hills. It was not until we neared the launch site that we realised they were the balloons themselves. As they were being filled with air, they grew and took their shape, and the fires heading up the air in their bellies lit them up like giant light bulbs. The low roar of the engines echoed in the valley.
Then, all at once, silence. The first balloon lifted off the ground gently and slowly. Then another, and another, until, in several minutes, the sky was being filled with them. I remembered thinking Annie was right. I had never seen anything so calming and beautiful.
How to get to Cappadocia
We flew into Istanbul, and from there took a domestic flight to Cappadocia (Edit: Nevsehir or Kayseri airport). You can book airport transfers with your hotel from either of the airports.
Where to stay
The town of Goreme is closest to the hot air balloon launch sites, but any of the towns nearby are a great base.
How to see and ride hot air balloons
Your hotel will be able to give you information about seeing the balloons, and make the booking for you. You will need to wake up at about 4am as they fly early in the morning. Occasionally, the flight can be cancelled for poor weather, so staying 3-4 days would be the safest way to ensure that you don't miss out.
Created in collaboration with Hunting World
Location: Cappadocia, Turkey | Photography: Louis Villers
Incredibly important style and travel tips to your inbox? Join my mailing list or follow me on Blog Lovin'